Welcome!  If you love vintage knives check out my pages:
Best of eBay – A hand-picked list from an experienced knife collector featuring the latest and greatest old knives on eBay in Auction, Buy It Now and Rare Knives format.  I recently added a page to explore more knives.  Updated daily!
My Shop – Features knives for sale directly from me as well as some cool vintage pocket knife gear (shirts, stickers, etc).
Blog- Features a small write up on cool knives, odd patterns and obscure makers from my collection.
Featured Items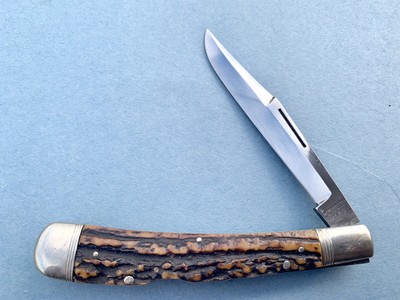 WINCHESTER 1950 STAG LOCK BACK KNIFE LIGHT ETCH
See Details

R.W. LOVELESS KNIFE "MAKER" CUSTOM STAG NESMUK - SIGNAL NUDE LADY-SHEATH
See Details
Want your knives featured on my website?  Click here for more information.